What is ahead: collapse or survival contrary?
03.04.2020 18:52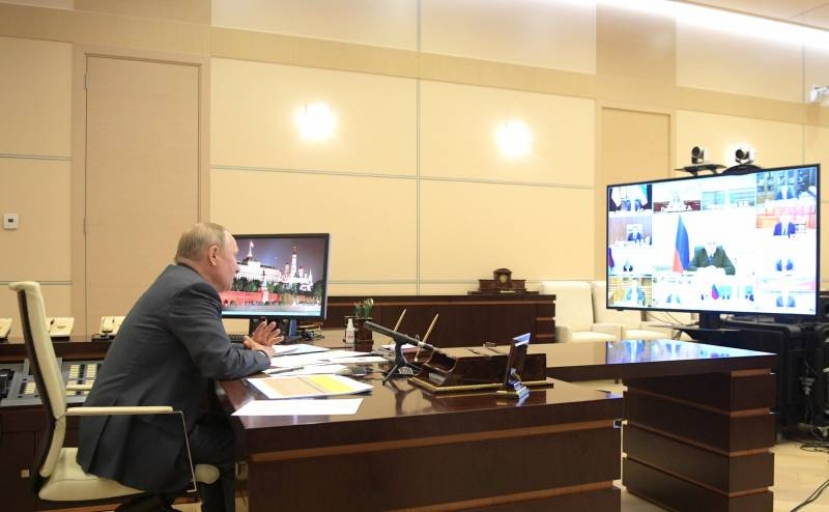 Watching, watching, watching. Listened to Putin, listened to many commenting on his words, look around. I'm listening.

The situation, of course, is not entirely pleasant.
On the one hand, all these self-isolating measures / half measures, of course, without them in any way. But immediately I want to ask a question: why is everything we have not like people? Even if the rest of the world is not like ours, there is absolutely no reason for the rest of the world to equal. Yes, we never really looked at others, who knows where and how the benefits are paid, right?

So, we look at Russia, try to understand whether everything is with us.

Of course, sending the entire (in fact, not all) country for a week / two / three / before a special order at your own expense is luxurious. No burden on the budget, no headache, and besides, it's not so bad to earn extra money on fines.

Are you looking? We look. And what do we see? And we see the following.

Those who are not on a specific list should go home. And sit until further notice. And the employer must pay wages in full. And where he takes the money for it, nobody cares at all. Because it should.

Interest-free, but a loan. That is, all the money taken will need to be given back later. Everything, a penny.

The same goes for taxes. Then - but to the penny.

It is clear that the owners of closed ateliers, car dealerships, car repair shops, factories and factories, cafes, restaurants, IT offices, in general, all who were considered superfluous, are not eager to plunge themselves into hell fire loan. Even interest-free.

In general, it turns out interesting. I mean the layout itself. You, the employer, at my command, stop work, dissolve the people and pay him as if he was working. Logics? No, they didn't deliver it.

If, in support of their orders, the president and the government simply opened a welfare fund and supported small and medium-sized businesses, which were closed, this would be understandable.

But support in the Country of Debtors is usually provided not to those who really need it, but to those who have the opportunity to do so. A vivid example: the traders, who once again raised gasoline prices, caused another "surprise" of Putin, turned to him with a petition. Business, Vladimir Vladimirovich, is at stake! They do not want slaves of fuel at new prices, we will have nothing to eat.

Well, just like Mr. Deripaska, who in the USA was pinched by sanctions. And then the whole country rushed to support him, poured money, an order issued to pack beer in cans issued ...

But where is Deripaska and the gas dealers, and where is the cafe, atelier and everyone else?

In fact, the president and the government simply weighed under the plausible pretext of such a strong kick to all SMEs (small and medium-sized enterprises). Here, quite recently, the president spoke a lot about how we like SMEs and how they will support it.

Supported, you will not say anything. On the spot. Now a control shot in the head, in terms of sitting until the end of the month.

Yes, some cafes and restaurants began to work "for export", they were happy to find assistants in the form of various "self-isolated" sent for an incomprehensible vacation. But this is all small things, agree.

Well, who will order home food from a cafe or restaurant when there is only an incomprehensible expectation ahead? Of course, someone will be. But this is clearly not enough for small enterprises to survive.

All these conversations about support will remain only conversations. Nobody has canceled and does not cancel the rent, salary and other pleasures, but where will the non-working enterprise get its income if it is closed?

For a month we were left without everything. The list is long.

In general, the "care" turned out to be peculiar. No gingerbread at all, but a delicious set of whips. It's hard for me to understand why, with the completely microscopic promised "support," such an extensive set of punishments is available.

Well, you can't get around how we began to make laws. State Duma deputies themselves are outraged that the adoption of laws comes down to simply pressing buttons without any discussion.

Well, how could it be otherwise, the Fatherland is in danger, accepted as is. There is nothing to think about!

As a result, freshly voted laws are admirable. This is a rehearsal of totalitarian rule.

Expansion of the authority for the government of the Russian Federation to prevent and eliminate emergencies, including the addition of a basis for declaring emergencies - a disease that poses a danger to others.

Well, I agree, there is something reasonable in this. The question is who and how will evaluate the threat posed by the disease.

It also simplifies public procurement, a moratorium on bankruptcy, a mechanism for using personal funds of tour operators to return funds for trips, and suspension of inspections of small and medium-sized businesses.

Suspension of checks - this does not look something substantial. There is no point in inspecting closed enterprises at all.

A moratorium on bankruptcy is, in general, interesting. On the one hand, it seems to be in favor of the workers, on the other - where should the employer run in case of extended "vacations" and ruin?

Oh yes, for a bank loan. And at the same time start urgently transferring everything available to someone else. Not yet taken away.

The personal responsibility of tour operators to refund vouchers ... Not bad. Let's see how many businessmen from tourism will survive by the end of the pandemic.

In light of recent events, namely, the president's new appeal to the nation, optimism, which, so to speak, wasn't particularly true, SMEs (small and medium-sized entrepreneurs) have reduced to the zero mark.
A month to live without working? Vladimir Vladimirovich clearly does not realize how this is. He, apparently, believes that each individual entrepreneur has at least a bank account with the type of accounts with his entourage. Alas, Mr. President, this is far from the case.

And the middle class, which earns more than 17 thousand, will now begin to put its teeth on the shelf with your prayers. The choice as a whole is not very: ruin or a virus. Well, we'll defeat the virus. Self insulating. This is if we win. What's next?

What to do with the army of merchants who are on the brink of ruin from closed stores with "not important" goods?

It's not at all about not closing them, although it's interesting for me to observe the Babi revolt in three weeks. Hairdressers, manicure and pedicure salons and offices are also closed. Hello to the beauties!

It is about supporting SMEs. And in this regard, we only have credit. Generosity is incredible.

But what a beauty in terms of punishments. For example, changes in the Criminal Code.

Strengthening the responsibility for violation of sanitary and epidemiological rules, which entailed a mass disease: a fine of 500 thousand to 1 million / imprisonment for a period of 1 year to 3 years.

Deliberate creation of a threat of mass disease - a fine from 1 million to 2 million rubles / imprisonment from 3 to 5 years.

By the way, for the threat, not for the mass disease. Note.

Changes to the Code of Administrative Offenses. Everything is beautiful too.

Violation of sanitary standards is punishable by a fine, which is increased significantly.

Attention! Cherry on the cake! For dissemination of false information in the media and information and telecommunication networks, a fine for legal entities is from 1,5 to 3 million.

If this information caused death, caused harm to health or property, or caused public unrest - a fine of 3 million to 5 million rubles.

No beauty! Do you see the struggle for compliance with the rules and regulations? Personally, I see only concern about the budget. Especially about creating a threat. It is difficult to say what our lawmakers had in mind, but every second in the country can be fined for the threat.

Tax code. Well, at least they had fun here.

I liked the self-employed tax. Now it has been introduced throughout the country, now catching and skinning will begin. For there is nothing to hide the revenues from the state. No, the matter is necessary on the one hand, and on the other hand, how important is it now?

I was struck by the endowment of the government of the Russian Federation with the right to suspend tax audits until 31.12.2020/30/15, to grant deferred tax payments, and to reduce insurance premiums from XNUMX% to XNUMX%.

The key word is DELAY. The epidemic will end, if you please pay current taxes plus those that have accumulated over a six-month deferment.

Help for small and medium enterprises, however !!! Such luxurious, oily.

And now, hello there!

A new tax on interest on deposits will appear. As promised. At first, it was assumed that the tax would be on interest from the amount above 1 million rubles. No guys, it's you who decided to get rid of cheaply. Will not work. Not for that Putin planted the new prime minister contrary to the opinion of the Duma.

According to the deputy of the State Duma Natalia Ganzya, whom I personally believe, since I have proved more than once my inanimate and scandalous nature, the tax will be paid by depositors whose annual income from deposits will exceed 60 thousand rubles. The amount of interest income over 60 thousand rubles is now taxed at a rate of 13%.

The main thing is how on time! Such a help in the fight against coronavirus! This tax will be levied from 2022 on the basis of the income from deposits for 2021.

In general, especially after listening to Putin's appeal, I understood only one thing.

Those who sit on subsidies, Gazprom, Rosneft, Sberbank and all others, they do not care about all these self-isolation. They have state assistance, funds and more. They are warm and dry.

It was decided to sentence small and medium-sized businesses to a slow and painful death. I just can't imagine how those who depend on their daily work will survive. Private dentists, hairdressers, manicure and pedicure masters, shoemakers, tire fitters, car repair shops, clothing, footwear, spare parts dealers, clothing repair ateliers, and more.

With all that, everyone simply cannot be imprisoned for self-isolation. A fairly large number of people stagger around the cities. Moreover, both busy, and frankly "vacationers."

Personally, I have a not very pleasant understanding of the problem. In the best case, we are faced with a complete misunderstanding of the president and government of the effectiveness of the measures that they impose on us.

In the worst case, we become participants in a kind of social experiment, the essence of which is not entirely clear, but we can evaluate and feel the results.

In my own skin, unfortunately.

P.S. Lovers are free to speculate about the fact that our government and the president are doing everything right and in accordance with the law. What is "self-isolation", where can this term be seen in laws, and how legitimate is it? Well, so that he could be fined?

So, there is no such term. There is a quarantine. There is an emergency. There is an emergency. But there is no self-isolation. Accordingly, what is half the country busy with?
Roman Skomorokhov