EU should be ready to admit 10 new members – Borrell
01.09.2023 10:11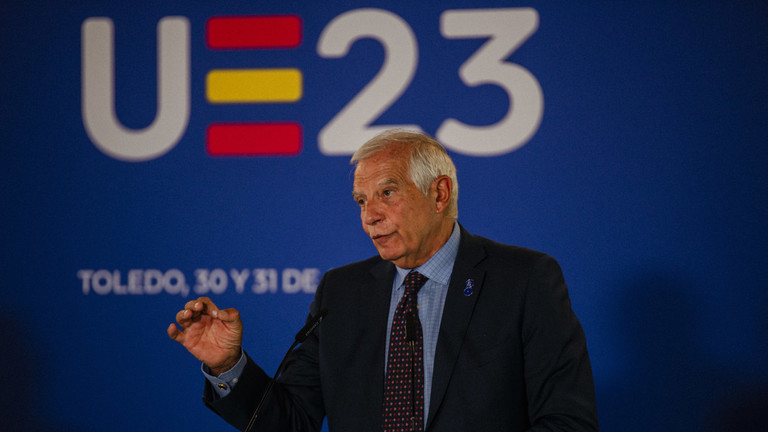 Photo: Global Look Press / Mateo Lanzuela
The European Union has to prepare for a future enlargement that might involve up to ten new members, the bloc's top diplomat Josep Borrell said on Thursday, following a meeting of EU foreign ministers in the Spanish city of Toledo.
Ukraine and the Western Balkan nations are the primary candidates for EU accession, the official said, adding that the ongoing conflict between Kiev and Moscow did not prevent such a development.
"I think that the war in Ukraine has had a collateral effect, which is to speed up the enlargement process," Borrell told journalists after the meeting. He added that, although the process of becoming a member would still largely depend on the potential candidates fulfilling all the necessary requirements, "it is good to have a political target –a horizon– … to give a political impetus to the process."
"Yes, we too have to be prepared for an enlargement that could add ten more members to the European Union," he said, without naming any of the potential candidates except for Ukraine. Setting a "time target" would supposedly help the EU "mobilize our energies and the energies of the candidate countries," Borrell claimed.
Earlier this week, the Financial Times reported that Brussels was preparing for a potential enlargement before 2030. European Council President Charles Michel allegedly planned to propose admitting new member states in the near future, according to the paper. The FT also said that Michel supposedly sought to emphasize the importance of timing as well.
It's expected that EU leaders will hold their next discussion on expansion in early October at a summit in the Spanish city of Granada. Over the past years, Brussels has officially accepted Ukraine, Moldova and Albania as candidate countries. Discussions have also been held on whether to allow as many as eight other nations to join in the foreseeable future.
Kiev was granted candidate status in 2022 amid its conflict with Moscow. Ukrainian officials have since insisted on opening accession talks as soon as possible, preferably before the end of 2023. Some European Union members, including France, have previously stated that Kiev should not expect a fast track to membership.
Brussels said in February that Ukraine was only at an "early stage of preparation" for the implementation of EU policies in many key areas.