Multiple drones intercepted in Crimea – MOD
14.09.2023 09:38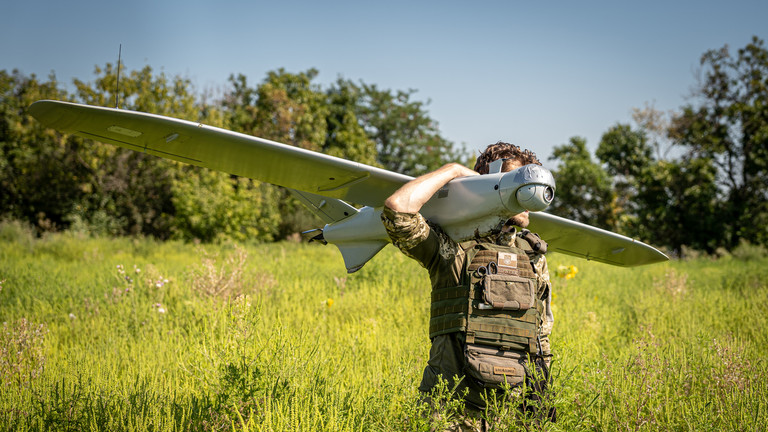 Photo: Ignacio Marin / Anadolu Agency via Getty Images
The Russian military has repelled yet another Ukrainian drone attack against the Crimean Peninsula, with at least 11 UAVs shot down in its aispace and another five unmanned naval boats intercepted in the Black Sea on Thursday morning.
"On September 14, at about 5:30am Moscow time, an attempt by the Kiev regime to carry out a terrorist attack using aircraft-type UAVs on objects in the Russian Federation was thwarted," the ministry said in a brief statement on Telegram.
Russian air defense units "destroyed 11 unmanned aerial devices" in Crimean airspace, the military said.
Around the same time, five naval drones were also destroyed as they approached to attack the Black Sea Fleet patrol ship 'Sergey Kotov', which used its on-board weapons to neutralize the unmanned boats, the ministry added.
It was not immediately clear where the drones were intercepted, but several explosions and anti-air gunfire were heard in the vicinity of the Crimean city of Evpatoria, according to witness reports on social media.
The drone attack follows a string of similar incidents in recent weeks, with many targeting Crimea, where Moscow's Black Sea Fleet is located. Other Ukrainian strikes have been aimed at the Russian capital, with air defenses shooting down a number of UAVs over the city last week.
On Wednesday, Ukrainian cruise missiles struck a Russian shipyard and injured at least 24 people. The morning attack involved up to 10 missiles and three naval drones, according to the Russian Defense Ministry, which noted that two vessels undergoing repairs were hit in the blasts.
Though it is unclear what type of weapons were used in the strike, a spokesman for the Ukrainian Air Force acknowledged that Kiev was responsible and said Russian forces had experienced "a storm" – possibly a reference to Storm Shadow cruise missiles supplied by the UK.
The stepped-up attacks come as Ukraine's summer counteroffensive continues to lag, with Kiev struggling to penetrate Russian fortifications despite heavy military support from its Western patrons. According to Moscow, Ukrainian forces have lost more than 71,000 troops and over 7,600 heavy weapons since launching their push in early June, and while Kiev does not disclose its own losses, officials have acknowledged the offensive is moving slower than expected.