Poland: Germany Not 'As Generous As It Should Be' In Sending Support to Ukraine
25.03.2023 23:28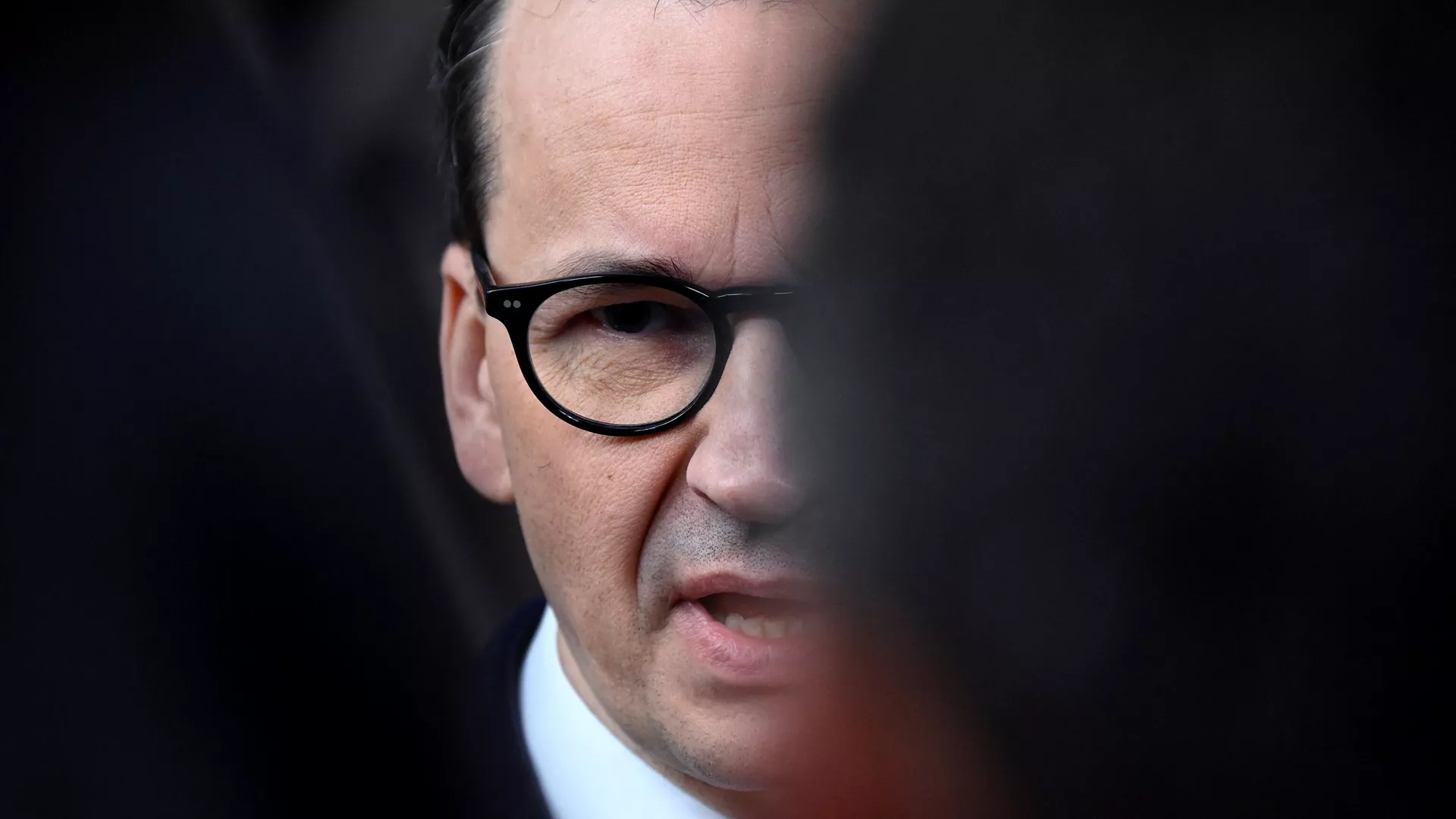 AFP 2023 / JOHN THYS
Earlier, as Warsaw announced it was moving ahead with plans to deliver Soviet-era MiG-29 jets to the Ukrainian Air Force, Polish Prime Minister Mateusz Morawiecki revealed that his country was exploring the possibility of increasing the production of ammunition for Kiev as stockpiles rapidly decline.
Germany has been lambasted by Polish Prime Minister Mateusz Morawiecki for ostensibly failing to contribute a fair proportion of supplies to Ukraine.
Berlin was rebuked by the Polish leader as a state that ought to be "sending more weapons, sending more ammunition, and giving more money to Ukraine, because they are the richest and the biggest country by far," according to a US media outlet.
"They were not as generous as they should have been... I still encourage them to be so," Morawiecki was cited as saying.
Morawiecki weighed in on Berlin's original reluctance to support Kiev with lethal weapons, which was finally crushed last year. At the time, bowing to Washington-driven pressure, Germany reversed its practice of blocking lethal weapons from being sent to conflict zones and dipped into its stockpiles of anti-tank weapons and Stinger anti-aircraft defense systems, sending them to Kiev authorities. Furthermore, Berlin announced a decision to send 14 Leopard 2A6 battle tanks to Ukraine in late January - once again, under pressure from the US.
"Three months ago, Germany said it's not possible; now, it's possible, so they are changing their approach," the Polish leader was quoted as quipping.
But Morawiecki was not done with Berlin. He lambasted its former energy policies, which were heavily reliant on importing Russian gas.
"Through their mistaken gas and oil policy towards Russia, they are partly responsible for what is happening, for this mess in the energy market. Germany made the dramatic mistake of being completely dependent in their business model on Russia for fossil fuels... And we were urging them. We were asking them not to do so," Morawiecki said.
The Polish Prime Minister, who recently revealed that his country was mulling boosting the production of ammunition for Kiev as stockpiles were being depleted, added that he regularly talked with German Chancellor Olaf Scholz on the issue of support for Ukraine.
"I have this conversation every now and again. I ask him for as much support as he can supply. This is all I can do."
The Polish PM also had suggestions regarding the joint EU fund, known as the European Peace Facility, that reimburses states, in part, for donating weapons to Ukraine. Again, Morawiecki took a dim view of Germany's contribution to the fund, calling it no more than "proportional" to the country's size.
As for Poland, he said it will seek to have Brussels partially reimburse all its donations, tanks and jets included. Earlier, Polish President Andrzej Duda said Poland will hand over the first four MiG-29 fighter jets to Ukraine shortly.
Poland is the lead country in the EU when it comes to the percentage of GDP it sends in military support to the Kiev regime, according to data provided by the Ukraine Support Tracker. Warsaw has made no secret of its scathing opinion of such European powerhouses as Germany and France for their alleged shortcomings in playing their part when it came to propping up Kiev.
"I'm not attacking them, I'm just stating the obvious," the Prime Minister was quoted as saying.
In the wake of the European Union leaders' summit in Brussels on 23 and 24 March, the Polish leader underscored in a US media interview that both Brussels and NATO should rethink their spending rules in the direction of substantial military investments. The North Atlantic Treaty Organization's allies should hike up their spending target from the current 2 percent of GDP, Morawiecki insisted.
"Given that there are more and more uncertain times around us, first I will be advocating for increasing this spending to 3 percent... Poland will already spend up to four percentage points of GDP this year on defense," Morawiecki said.
Ever since Moscow began its special military operation in Ukraine on 24 February 2022, NATO member Poland has been frenziedly supporting the slew of anti-Russian sanctions and willingly on board with the drive to deliver vast quantities of military aid to the Kiev authorities.
In April 2022, Moscow sent a note to NATO member states condemning their military assistance to Ukrainian President Volodymyr Zelensky's regime. The Kremlin said that pumping Ukraine with weapons would have a detrimental effect on the conflict. Furthermore, the Russian Foreign Ministry has warned several times that any cargo containing weapons for Ukraine would become a legitimate target for Russia.