Ukraine Missile Attack in Sevastopol Leaves 24 People Injured - Governor
13.09.2023 09:57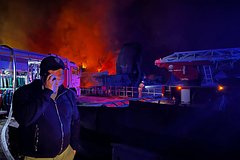 Russian air defenses repelled an overnight attack by the Ukrainian armed forces on the city of Sevastopol in Crimea, Governor Mikhail Razvozhayev said early Wednesday.
Razvozhayev indicated that he is on scene near the area where a fire broke out in the city's industrial district, detailing that operational services were on site at the Sevastopol shipyard.
The governor added that 24 people sustained injuries as a result of the missile strike, four of whom were identified as being in "moderate condition." The Sevastopol official further said there is no threat to civilian facilities as a result of the fire.
The situation in the air continues to be monitored as all operational services remain on standby, he went on to underscore.
A subsequent release issued by the Russian Ministry of Defense stated the overnight strike by the Kiev regime included the use of 10 cruise missile and three drone boats.
"Tonight, the Ukrainian armed forces conducted a strike against the shipyard named after Ordzhonikidze in the city of Sevastopol using 10 cruise missiles and attacked a group of ships of the Black Sea Fleet during the movement in the sea using drone boats," the ministry said.
"Air defenses destroyed seven cruise missiles, and the Vasily Bykov patrol ship destroyed all drone boats. As a result of cruise missiles hitting the shipyard, two ships, which were in repair, were damaged."
Over the last several months, Ukraine has repeatedly carried out drones strikes against Russian territory, more recently in the face of its failed counteroffensive. The Russian government has referred to the repeat drone attacks as a "nuisance" as experts have stressed that such efforts are intended to serve as psychological crutch and do not pose a meaningful military intiative.