Zelensky vows to reinforce defense of key Donbass city
15.03.2023 22:06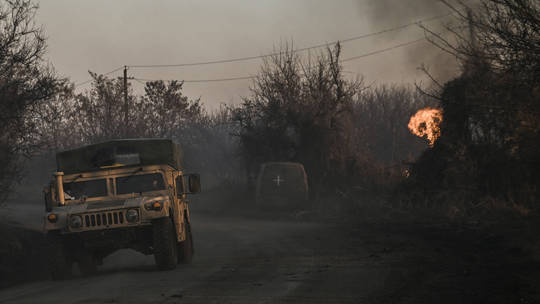 AFP / Aris Messinis
The defense of the strategic Donbass city of Artyomovsk, known as Bakhmut in Ukraine, which is reportedly almost fully encircled by Russian forces, is going to be intensified, Ukrainian President Vladimir Zelensky has said.
The fight for Artyomovsk – a major foothold and logistics hub for Kiev's forces in Russia's Donetsk People's Republic – has been raging since August.
In a video address late on Wednesday, Zelensky spoke about the decisions made during a meeting he'd had with Ukraine's top military officials earlier in the day, which featured "reports from the Commander-in-Chief, intelligence and commanders of directions."
Bakhmut and Khortitsa, the largest island on the Dnepr River, which is part of the Ukrainian-held city of Zaporozhye, remain "the main focus" for the country's armed forces, he said.
"The clear position of the entire Staff is to reinforce this direction, to inflict maximum possible damage upon the occupiers," the president stated.
Zelensky's office also said in a separate statement that "a common position regarding the further holding and defense of the city of Bakhmut" was expressed at the high-profile gathering.
Russian forces have captured several villages in the region, and recently almost surrounded the city, according to Wagner Private Military Company chief Evgeny Prigozhin. Earlier this month, he stated that Russian troops were in full control of the eastern part of Artyomovsk.
Zelensky has repeatedly insisted that he wouldn't surrender the city, despite reports that the US has allegedly urged him to withdraw and focus on other parts of the front line.
In an interview with CNN last week, the Ukrainian leader explained that the battle for Artyomovsk/Bakhmut was "tactical" for his country and that if Russia were to take control of the stronghold, it would have an "open road" to more Kiev-held parts of Donbass.
Politico reported on Sunday that Zelensky's fixation on Artyomovsk has seen relations between Kiev and its prime supporter Washington "cracking." Biden administration officials told the outlet that they were concerned that "expending so much manpower and ammunition" could leave Ukraine unable to mount a counteroffensive against Russian forces elsewhere.