Vitalina Batsarashkina wins 1st gold for Russia, setting Olympic RECORD in women's 10m pistol event in Tokyo
25.07.2021 18:25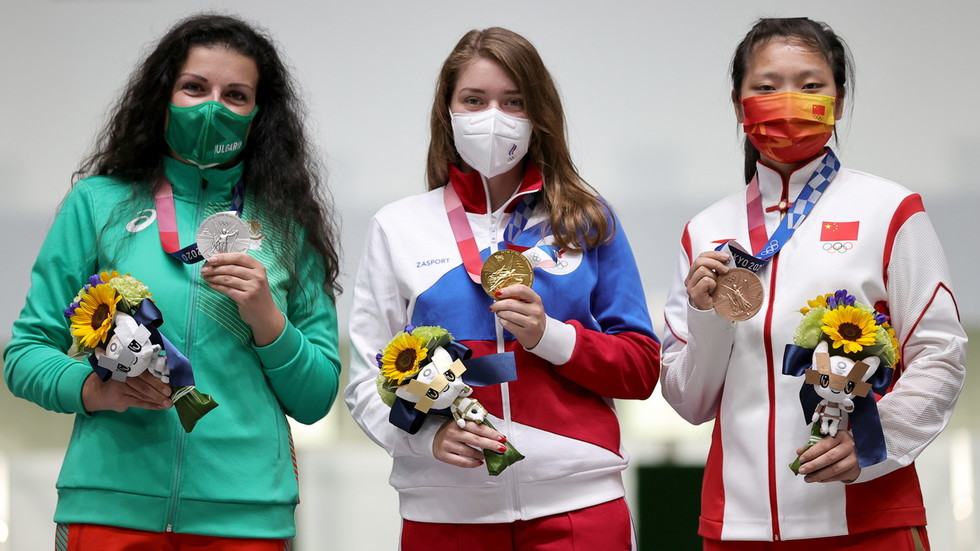 Russia's Vitalina Batsarashkina celebrates with Antoaneta Kostadinova of Bulgaria and Jiang Ranxin of China © Reuters / Ann Wang
Russian shooter Vitalina Batsarashkina has won the women's 10-meter air pistol event, setting a new Olympic record in Tokyo. Bulgaria's Antoaneta Kostadinova won the silver, and China's Jiang Ranxin took bronze.
Batsarashkina set a record of 240.3 points, with a 0.9 lead over Kostadinova, winning her first Olympic gold in Tokyo – five years after taking silver at the Rio Games.
While China's Jiang was the best in the qualifying rounds (with an Olympic record of her own of 587 points), she ended up having to settle for bronze.
On Saturday, another Russian shooter, Anastasiia Galashina, claimed silver in a tense women's 10-meter air rifle event.
The Tokyo Olympics entered its second day on Sunday, with multiple medal events in archery, cycling, diving, fencing, judo, skateboarding, weightlifting, and swimming.