A Russian orchestra plays Bach and Prokofiev in the ruins of Palmyra
05.05.2016 23:32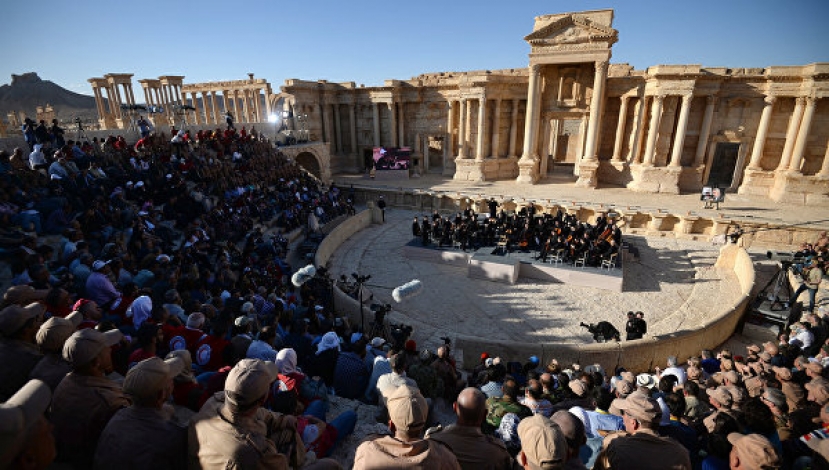 The Russian government sent one of the country's top orchestras to the Syrian desert with a message.
WHERE the Islamic State (IS) spilled blood, Russia played Bach. As the chords of the Mariinsky Theatre orchestra filled the Roman amphitheatre of Palmyra, an ancient city that was an IS stronghold until March, the music's message was clear: there is civilisation and there is barbarism; stand with Russia on the side of the good. The Russian government had sent one of the country's top orchestras from St Petersburg to the Syrian desert to deliver that message; the defence ministry invited along over 100 journalists to make sure it got through.
The journalists spent the trip in a bubble, packed onto five tour buses with a heavily armed escort. They saw what the Russians wanted them to see: an airbase full of fighter jets, a small town signing a Russian-brokered peace agreement, hungry Syrians receiving humanitarian aid (labelled "Russia is with you!"), and the ruins of Palmyra, liberated with the help of Russian air power.
The crowning moment was the concert, a spectacle so audacious that a listener would be hard-pressed not to grin. Valery Gergiev, the Mariinsky's world-renowned conductor, led a performance of Bach's chaconne for solo violin from the Partita No 2, the quadrille for cello from Shchedrin's opera "Not Love Alone", and Prokofiev's first symphony. The featured soloist was Sergei Roldugin, a cellist who is Mr Putin's close friend—and a central figure in the Panama papers leaks last month. The stage was the same one where IS executed dozens of people last year. "It is the destiny of the Russian soldier at all times to save culture from fascist destruction," intoned Russia's minister of culture, Vladimir Medinsky.
Mr Putin has framed his intervention in Syria as a battle against terrorism, calling for other countries to unite with Russia against IS, as many did against Hitler. The West regards this as a smokescreen for Russia's support for the autocratic regime of Bashar al-Assad. Despite recent ceasefires brokered by Russia and America, the two countries' aims in Syria are in conflict.
The Russians argue that the West has ignored their positive influence in Syria. "Great things are being done here," contends Major General Igor Konashenkov, a spokesman for Russia's defence ministry. Since Russia launched its bombing campaign last September, the Syrian state has been preserved. International terrorism has taken a "big blow". More than 700 tonnes of humanitarian aid have been distributed. Mr Konashenkov says Russia has helped broker ceasefires in dozens of villages, and convinced thousands of militants to lay down arms.
Although Mr Putin announced a withdrawal from Syria in March, Russia's presence remains robust. Its army plans to stay as long as it takes to "defeat terrorism". That may be a while. Fighting still rages, especially around the contested city of Aleppo. Russia's Khmeimim airbase continues to hum with the sounds of SU-24, SU-34, and SU-35S jets taking off and landing. The British-based Syrian Observatory for Human Rights says that air strikes have killed thousands of civilians. (Mr Konashenko claims that Russian bombs have not taken a single civilian life.)
The concert made for a surreal contrast with the Syrian landscape. Latakia was full of scenes of normal life: a sharply-dressed young woman wandered the morning streets, and roadside stands offered crates of dusty fruit. But checkpoints are frequent and Mr Assad looks out from countless billboards, smiling, or looking stern behind black sunglasses. Closer to Palmyra are signs of recent combat. Burnt-out cars lie in shrapnel-scarred villages; fallen power lines hang next to empty ammunition crates. Surveillance blimps hover over Palmyra itself; IS is said to be 15km away.
Mr Putin did everything he could to underline the concert's message that Russia is leading the fight for Western civilisation. Before the music began, he appeared in a live broadcast on a video screen behind the stage to express "hope that our contemporary civilisation will be relieved from the horrible disease of international terrorism". His audience at home seemed entirely convinced; on Russian Twitter, even liberals seemed swept up by enthusiasm.
The spectacle had less impact on the other intended audience: Europe and the West. Those present included officials from the Syrian Red Crescent, religious leaders and dignitaries from across the country, a delegation from the Russian culture ministry, and a handful of UNESCO ambassadors. Notably absent were representatives of any Western countries. "I invited them all," said Eleonora Mitrofanova, Russia's UNESCO representative. "But they think that if they come here it will mean support for [Mr Assad]." Meanwhile, as the press tour was under way, air strikes on a refugee camp near the northern city of Idlib were reported to have killed at least 28 people.