Early counting shows Erdogan in the lead
14.05.2023 20:33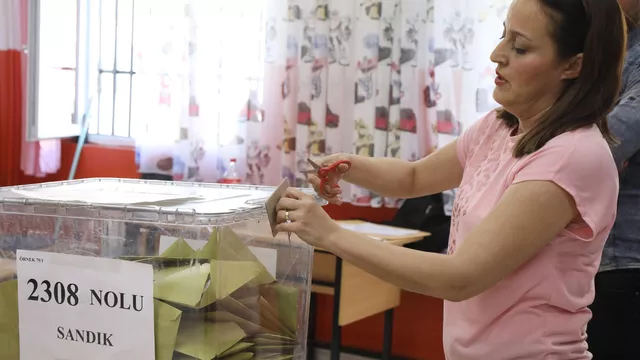 Preliminary results from Türkiye's presidential election show the incumbent, Recep Tayyip Erdogan, with a comfortable lead over his opponent, Kemal Kilicdaroglu. However, the majority of the ballots remain to be counted.
Polling stations closed at 5pm local time on Sunday, with the first results announced several hours later by Anadolu Agency. With almost 20% of ballots counted, Erdogan had 55% of the vote, with Kilicdaroglu at 39%. Sinan Ogan, widely considered an outside shot for the presidency, came in a distant third at 6%.
Some 64.1 million people were registered to vote, including more than 1.7 million Turkish living abroad. Turnout was high at 85%, Anadolu Agency reported.
Prior to the election, opinion polls put Erdogan and Kilicdaroglu within single digits of each other.
The election was widely portrayed as a referendum on Erdogan, who has ruled Türkiye as president since 2014 and prime minister for 11 years beforehand. After defeating an attempted coup in 2016, Erdogan has strengthened the powers of his own office while positioning Türkiye as a major regional power.
EU accession talks have ground to a halt under his leadership, with Türkiye breaking from its NATO allies to pursue deeper economic and diplomatic ties with Russia and China.
Kilicdaroglu has promised to reorient the country toward the West, and to dismantle some of the presidential powers put in place by Erdogan. If elected, he has promised to immediately reopen EU membership talks and implement the reforms demanded by Brussels.
The runup to the election was marred by claims of foreign interference from both sides. Erdogan and his officials described a slew of negative op-eds and magazine covers in the Western press as an attempt to swing the vote against him, while Kilicdaroglu accused Russia of circulating "montages, conspiracies, deep fakes and tapes" – apparently a reference to footage purportedly linking Kilicdaroglu to the Kurdistan Workers' Party (PKK), which is designated as a terrorist organization in Türkiye.
Moscow has categorically denied Kilicdaroglu's claims, which were made without evidence.