German regional leader calls for repair of Nord Stream
29.08.2023 11:07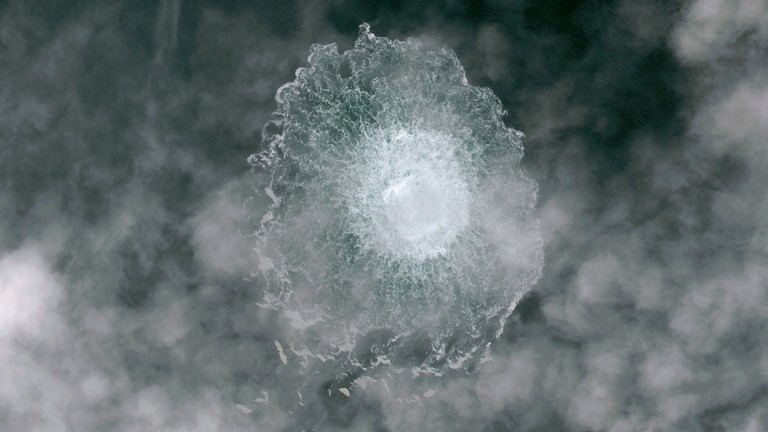 Photo: AFP / Airbus DS
The leader of the German state of Saxony has argued that the Nord Stream 1 natural gas pipeline linking to Russia, which was ruptured in an underwater explosion last September, should be repaired. Minister-President Michael Kretschmer warned that unless action is taken soon, sea water will damage the conduit beyond repair.
In an interview with Germany's WirtschaftsWoche magazine published on Monday, Kretschmer said: "It is important because this infrastructure can secure our energy supply in five or ten years."
He insisted that it is the "most normal [thing] in the world that the pipeline is repaired, that is, the water is removed and it is sealed and thereby secured for starters."
The Saxony leader stressed that no one knows what the situation will look like in a decade from now, and that "keeping as many options open for yourself as possible would be a sign of a smart politician."
Back in June, Economy Minister Robert Habeck warned that Germany may have to scale back or even shut down some of its industrial capacity, should deliveries of Russian natural gas through Ukraine stop next year. He said authorities in Berlin should not disregard the economic risks from energy shortages.
Doubts remain as to whether Ukraine and Russia will renew a contract for gas transit to Europe, set to expire at the end of 2024, as the conflict continues.
Habeck explained that while Germany has mostly weaned itself off Russian energy, other EU member states, such as Austria, Slovakia, Italy, and Hungary are still very much dependent on Russian gas. Should supplies from Russia be discontinued, Berlin will be obliged to come to their rescue under the EU's gas-sharing rules, creating problems for industrial consumers at home, the minister noted at the time.
The Nord Stream 1 gas pipeline and one leg of Nord Stream 2 were destroyed in a series of near-simultaneous blasts off the Danish island of Bornholm in the Baltic Sea in late September last year. In February this year, veteran US journalist Seymour Hersh claimed that the US was behind the sabotage.
Reports in the German media over the summer have suggested that authorities in Berlin suspect the possible involvement of the Ukrainian secret service in the pipelines' destruction.