Ukrainians given depleted uranium training
28.03.2023 13:46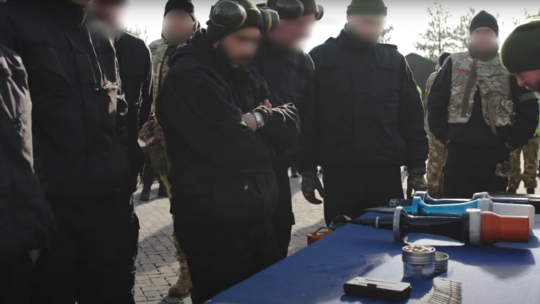 YouTube / UK Ministry of Defence
The British Defence Ministry has shown Ukrainian soldiers handling depleted uranium armor-piercing rounds, in a video released to mark the completion of their training on Challenger 2 tanks.
Instructors from the UK – and at least one American officer can be spotted in the Ministry of Defence (MoD) footage released on Monday. They spent weeks training Ukrainians how to use the main battle tanks.
London previously pledged to send 14 Challenger 2 tanks to Kiev, and some of them have reportedly already reached Ukraine. The US has promised several of its M1 Abrams MBTs, while several NATO members have already delivered German-made Leopards. All Western tanks require a crew of four, including a manual loader, unlike the three-man crews of Ukraine's original tank fleet of T-64s and T-72s.
These loaders will have to handle the standard NATO armor-piercing rounds, which are made with depleted uranium rods. The ammunition has been linked to skyrocketing rates of cancer and birth defects in the former Yugoslavia and Iraq.
When DU penetrators strike a target, "they fragment and burn, generating chemically toxic and radioactive DU particulate that poses an inhalational risk to people," Doug Weir, an expert with the Conflict and Environment Observatory, told Declassified UK. This will be another burden for Ukraine, in a conflict that has already generated "serious pollution problems," he added.
Weir identified the ammunition in the MoD video as the inert display version of the CHARM3, the 120-millimeter DU ammunition in use by the British military.
The MoD told reporters last week that the "impact to personal health and the environment from the use of depleted uranium munitions is likely to be low."
In an article published in The Spectator on Sunday, a researcher at the government-funded Royal United Services Institute (RUSI) think tank admitted that DU is toxic. Russian soldiers should not "go to sleep cradling a depleted uranium round, or lick the tip," Jack Watling joked, adding that the projectile "traveling at around 1,800 meters per second and burning up as it flies will be more concerning to any target than its radioactivity."
The UK announced last week it would send the DU ammunition to Ukraine along with the Challengers. The Russian Foreign Ministry called the move a sign of "absolute recklessness, irresponsibility and impunity."
The Russian military does not seem concerned about the potential effects of DU in combat. Lieutenant General Igor Kirillov, who is in charge of Russia's Nuclear, Biological and Chemical Defense Forces, pointed out that DU dust will contaminate the soil and wreck Ukraine's agriculture for decades, while causing "irreparable harm" to the health of Ukrainians, civilian and military alike.