White House preparing for Biden impeachment – NBC
02.09.2023 12:50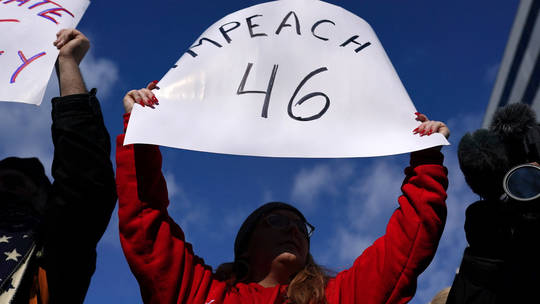 Photo: AFP / Nathan Howard
The White House has brought together two dozen legal and media experts to combat an expected Republican effort to impeach US President Joe Biden, NBC reported on Friday, citing a White House aide familiar with the administration's strategy.
According to eight inside sources, the counter-impeachment strategy has reportedly been in development for several months as House Republicans have attempted to investigate the president and his son, Hunter Biden, and their foreign business entanglements.
The White House aide who revealed the project to NBC also shared its ultimate goal – to present any impeachment inquiry as an "evidence-free partisan sham that shows a [Republican Party] penchant for chaos."
The administration's response will show that its opponents are "out of touch," one official explained, by juxtaposing Republican attacks on Biden with the president's work on "economic issues" that affect ordinary Americans.
The team has been constructed to prevent any impeachment inquiry from interfering in White House business, the aide explained. This is supposed to allow administration officials to concentrate on their jobs without being "bogged down in the minutia of ongoing investigations."
"Never in modern history has an impeachment been based on no evidence whatsoever," the aide told the news outlet, implying that taking on the Bidens would constitute such an impeachment.
White House aides on the counter-impeachment team have reportedly spent August's vacation researching Republican talking points, putting together a message and response team to fight back. They have commissioned polls and studied political ads in the hope of disseminating a unified message supporting Biden to the Democratic Party.
The Republican investigation into Biden and his son initially focused on the younger Biden's alleged crimes, which – according to evidence gathered from a laptop he left in a Delaware repair shop, at least – include influence peddling and corruption, as well as more pedestrian drug, gun, and prostitution offenses.
Hunter Biden has not been convicted of anything related to the current investigation, though he was about to enter a guilty plea on tax evasion and gun charges last month before a judge balked at the sweetheart deal he had worked out with prosecutors which would see him avoid a custodial sentence or felony conviction entirely.
An issue for an impeachment would be the extent to which the elder Biden was involved in his son's business deals in countries like Ukraine and China, deals which were directly affected by the policies Biden was making as vice president under then-President Barack Obama.
While the president has denied any knowledge of or participation in his son's professional activities, email records, as well as the testimony of Hunter Biden's former business partner Devon Archer, contradict his public statements on the matter.